Every year, millions of Americans look forward to Independence Day - a big day of the year. The Fourth of July is one of America's biggest holidays, with today's celebrations including fireworks and parades across the USA. In commemorating this occasion, people take the opportunity to celebrate their own independence while getting together with friends and family for some holiday fun.
And the 4th of July is a great holiday for gift-giving to your beloved ones so we can celebrate "red, white, and blue day" with awesome Fourth of July gifts. In this post, let's find out a list of amazing Independence Day gift ideas, especially gifts for dog moms to celebrate this big day.
Top 5 Most-Loved 4th of July Gift Ideas for The Best Dog Dad
The best Independence Day gifts for dog daddy are something he can use every day with his loved fur friends. At the same time, it should express their unbreakable connection that lasts from time to time.
If you're looking to make the best of the national holiday this year, check out some of the gifts for Dog Dad that can add excitement to your independence party.
#Personalized Awesome Dog Dad T-Shirt 
Available in many sizes and colors, this T-shirt Dog Dad will be a perfect item to celebrate this special day. As there are various dog breeds, don't worry that you can't choose the right one to treat any fur dad.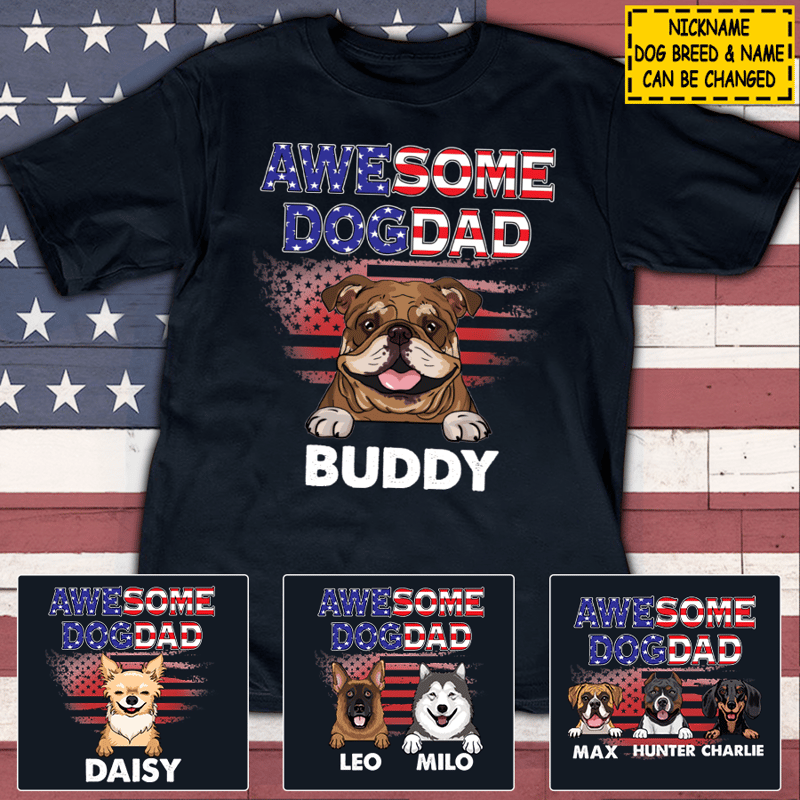 #Welcome To The Independence Day: Personalized Gift For Dog Lovers - Garden Flag
A perfect gift for Dog dads to decorate their lovely home. To celebrate their friendship and love, we recommend our custom decorative flag which you can customize the dog breeds to get them the thoughtful dog dad Independence Day gifts.
#Personalized Gift For Dog Lovers - Awesome Dog Dad Mug
Dog dads also deserve to have a wonderful Independence Day with their lovely four-legged pets like their babies. Sit down and enjoy this big day with a personalized Dog mug. 
#Independence Day: Best Dog Dad Ever - Personalized Indoor Pillow
Bringing the smell of fur friends, this Dog Dad indoor pillow is no doubt an easy way to celebrate fatherly love with an Independence Day gift idea for dog moms. It's practical and makes the giftee smile ear to ear as they feel that they are loved, too.
#Leopard & American Flag Color Personalized Phone Case
If you're looking for other creative and colorful dog mom Independence Day gift ideas, how about this sparkling Dog phone case? Your loved dog dads will feel nothing but happy when getting it on the celebration of Independence Day in the US.